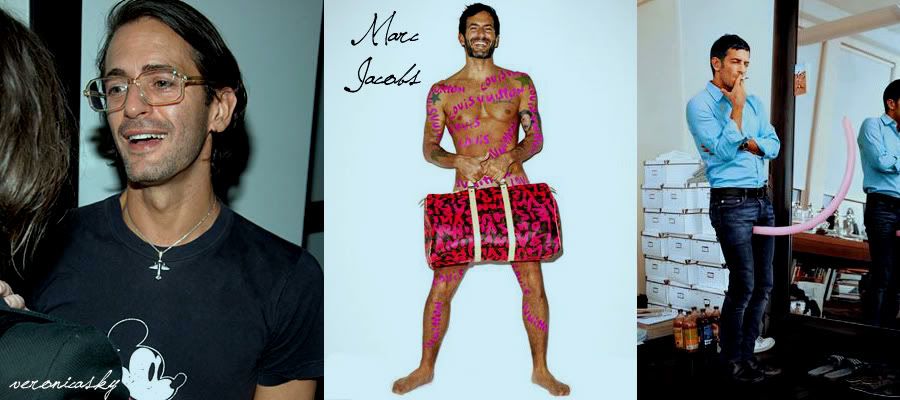 a little biography of the talented: marc jacobs.
"Marc Jacobs has the midas touch and an innate ability to design clothes that people want to wear. Whether he designs a satchel or a shoe it's always something everyone wants. From grunge to prom, from private jet to Tokyo nightclub, he has an outfit that suits.
His workload includes Marc Jacobs, Marc by Marc and Louis Vuitton - a titanic selection of back to back collections but he still has time to build a world class contemporary art collection and dress in pigeon costumes at his annual fancy dress party.
He has caught the fitness bug like so many male fashion designers. His muses include Sofia Coppola, Charlotte Rampling, Winona Ryder, Dakota Fanning, Victoria Beckham - all have been photographed by Juergen Teller for Marc Jacobs ad campaigns (Mrs Beckham was hidden inside a Marc Jacobs shop bag after Juergen persuaded her that she was "just a product").

• Born in New York City in 1963
• His grandmother, who he credits with being "the biggest influence in life", taught him how to knit.
• At 15, Jacobs worked as a stock boy in New York's trendy Charivari boutique and it was there that he was introduced to Perry Ellis who "embodied cool to me. He had long hair; he didn't wear a suit and tie, and he made funky clothes that were a big success. He gave me a lot of hope"
• Jacobs studied at the Parsons School of Art and Design in New York where he won the Perry Ellis Golden Thimble award in 1984
• He designed a radical grunge collection for Perry Ellis but they laid him off in 1992 - the year he won the Women's Designer of the Year award from the Council of Fashion Designers of America
• Two years later he launched his eponymous label, supported by models Naomi Campbell and Linda Evangelista, who worked for free. They were clothes for "a woman who brings home the bacon, but also fries it up in the pan"
• In 1997, Jacobs was appointed creative director of Louis Vuitton where he developed the company's first ready-to-wear line

At Louis Vuitton, he has been triumphant in revamping the famous accessory line and has collaborated with the likes of Steven Sprouse, Julie Verhoeven, Takashi Murakami and Richard Prince.

Marc Jacobs spends most of his time in Paris, where he lives with his vast contemporary art collection and bull terrier Alfred - who he has tattooed on his arm."

article from vogue.uk