I've finally started doing what I should have been doing years ago...connecting beautiful clothing with creative and beautiful people.
I am selling high quality one-of-a-kind vintage garments.
Email me @ Vgushansky@hotmail.com for any inquiries
♣
♣
♣
♣
♣
♣
♣
♣
♣
♣
♣
♣
♣
♣
♣
Unique Vintage Button Down Maxi - What better way to rock the maxi look than with a dress that allows you to open up the buttons and show some leg. Wear this dress open, or wear it buttoned, either way the 10" slits on the sides of the dress add the perfect revealing touch. A wonderful dress for any season that could be rocked as a day or night outfit. This dress is too cute to pass up and there really isn't anything like it. See for yourself.
Made from 100% polyester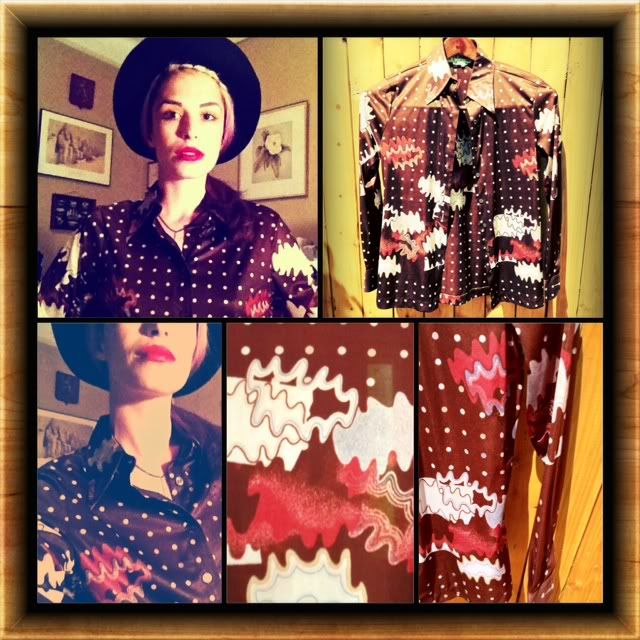 70's Funky Silky Button Down - Fabulous blouse for a woman who isn't afraid to rock an androgynous look. Feel like the disco drug dealer that everyone wants to be like. This shirt light, so it could be worn open a-top a summer dress or worn with a pair of high wasted pants for the winter. A pair of foxy litas would look killer with this blouse.
M
ade from 100% polyester
Size S/M
CandyCane Hamptons Button Down- This breezy, pastel colored shirt is a must when trying to look chic and casual. Looks unbelievably cute with a denim jacket, vest, or shorts. Or if you are feeling a little more daring, place a -top a crop top or black, lacey bralette.
Made from 50% polyester / 50% cotton
Size S/M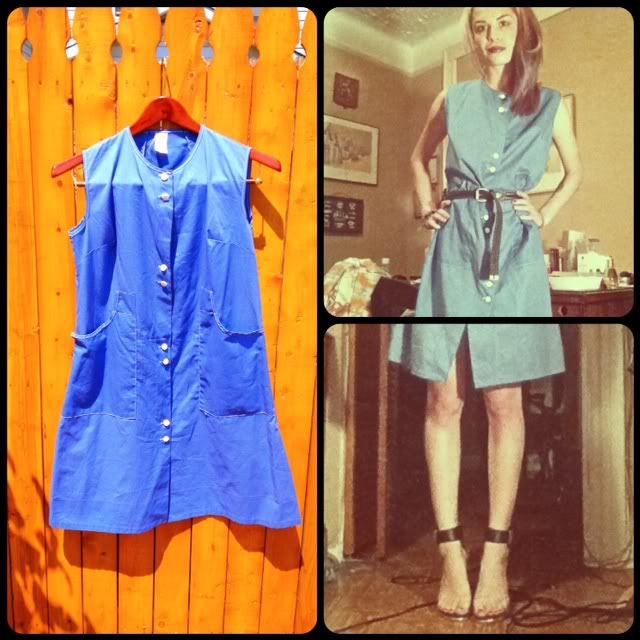 \
60's Blue Mod Dress - Look and feel fabulous wearing this unbelievably cute dress. Looks best with a thick or thin waist belt. Wear this dress during the day with a pair of wedges or vintage boots. Wear this dress during the night with a high pair of heels and a over sized blazer.
Size L** but easily works for smaller body types (depending on the look you are trying to achieve)
70's Sheer Blouse - A perfect blend of MOD and 70's style vintage, this button down blouse needs to a part of your closet. This blouse is very versatile and can be worn during a hot or chilly days. On hot days pair this beauty with a pair of tye-dye vintage shorts or a high-low skirt. On cooler days throw this baby a-top a pair of skinny jeans and wedges with a touch of dark red lipstick.
Lable on Tag - Mr. Dino New York
Size S
70's Big Collar Shirt - Look fabulous with a blast from the past. This shirt if perfect for A/W 2012, sharing a resemblance with the patterns found in the Prada A/W 2012 line. This shirt looks great with a pair of leather leggings and JC litas, or with a high waist party skirt.
Made of 100% polyester.
Size S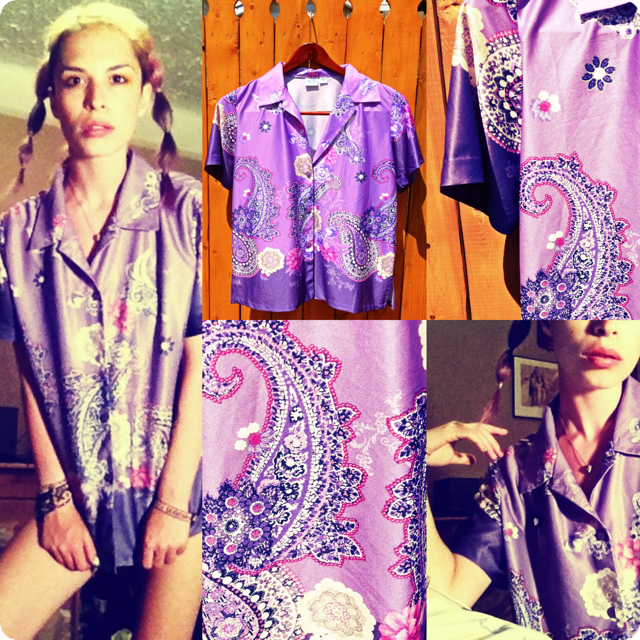 SeaPunk / 70's Button Down Shirt- stand out (in a good way) with this silky, stylish, funky button down. Wear it over a black mesh dress, or with some tye-dye high waisted jean shorts. No matter what you pair this gem with, you will look fabulous.
Made of 100% polyester.
Size M
70's Funky Button Down Shirt - great to wear during rain or shine. Best for upcoming season A/W 2012, which will be all about patterns. Works great with black high wasted jeans or black, short leather skirt. Put on some dark lipstick to get an edgy/funky look.
Made of 100% polyester.
Size S/M
i am excited
for this journey to begin and I hope to share it with many of you.